As pet owners, we all want to ensure our furry friends live a long and happy life. While not able to remain with us as long as we would like them too, understanding the age of your pup in human years helps develop healthy care plans tailored towards their needs at different stages of life. From playful puppies full of energy to elderly dogs needing some extra TLC - knowing how old they are according to this scale can provide invaluable insight into providing quality nutrition and exercise options for better well-being over time. Keep reading find out everything you need know about translating canine ages into human ones – even use our calculator below!
Advanced with Glucosamine, Chondroitin, Probiotics + Omegas
 The age of your dog in human years can help you understand how your dog might be feeling based on their age. If your dog is 8 years old, they may be experiencing joint pain due to arthritis just like a human in their 60s might.
In the past, a dog's age in human years was often calculated by multiplying the dog's age in years by 7. For example, if you have an adult dog that is 3 years old, you would multiply 3 by 7 to get 21 years of age. Therefore, your 3-year-old adult dog is 21 years old in human years.
Scientist have developed a revised approach to determining a dog's age based on the chemical modifications to a creature's DNA over a lifetime. This creates an epigenetic clock - a biochemical test that can be used to measure age.
The researchers found that this function showed strong agreement between the approximate times at which dogs and humans experience common physiological milestones during both development and lifetime aging, such as when infants, juveniles, and adolescents reach different stages. This translates into a seven-week-old pup equaling that of a nine-month-old child - by the time deciduous teeth erupt in both pups and babies. They did find that dogs and humans do have similar age-related methylation of certain genomic regions, especially during aging in both species.
The new formula for a dog's age requires a little more math than multiplying by seven. The minimum age is 1. You multiply the natural logarithm of a dog's age by 16, then add 31 [human_age = 16ln(dog_age) + 31].
According to the formula, a year 1 year old dog is the equivalent of a 31 year old human, and a 2 year old dog is the equivalent of a 42 year old human, an 11 year jump. Things slow down after that. A 5 year old dog is the equivalent of a 57 year old human, and a 6-year-old dog is the equivalent of 60 year old person. Only a 3 year jump. The clock slows even more as they age more.
This makes sense when you think about a 1 year old dog (human age 31) is independent, can breed and raise the puppies, perform and learn complex task and survive on their own. With the old calculation, would a 7 year dog (human age 7) be able to do the same, physically or mentally?   
While the traditional calculation of a dog's age in human years is still widely used, the new epigenetic clock formula provides a more accurate way to determine a dog's age. This information can be helpful when it comes to managing your dog's health and wellbeing, specifically when it comes to their diet and exercise routine as well as veterinary care. 
Have you calculated your dog's age in human years using the new equation? Use the calculator below.
Superdog Solutions Dog Age Calculator
In human years your Pup is:
- years old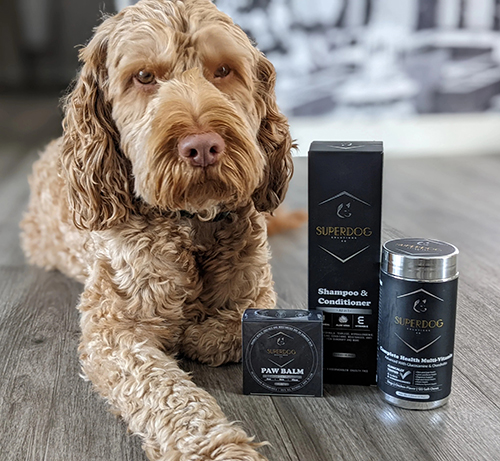 Share the Article with Friends so they can calculate their pups age too!